Best Performance Gear for Summer Workouts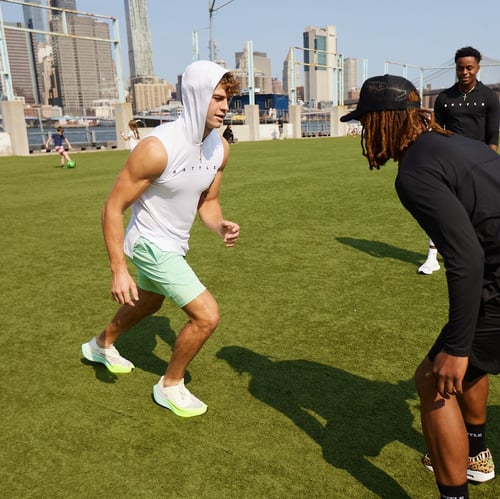 Even if the football season is a few months away, it is never too early to start preparing. After all, summer camps are on the horizon and training will begin before you know it. The key is to ensure that you are prepared before you begin your summer workout program so that you can roll into football season ready to go.
It all starts with having the right athletic apparel for the job. By having the right football apparel, things like a performance tee or regular t-shirt, shorts, and the rest of your performance gear, you can roll into summer camp ready to go. Here are a few pieces of summer performance gear that will go a long way.
The Importance of the Right Athletic Apparel
Why does athletic apparel matter, anyway? After all, the focus is on performing in the weight room and on the field. What you may not realize is that having the right football apparel can be a critical part of performing in those big moments.
Having the right performance gear can provide a litany of benefits. Read on to find out more about how each piece of football apparel can wind up helping you to maximize performance across the board.
Tops & T-Shirts
Athletic apparel comes in many shapes and sizes. For most, a t-shirt or performance tee is a good place to start. While it might seem like a simple shirt, there is a lot more at play happening when you have the right shirt for your summer training program.
While a regular t-shirt is fine, it can also be somewhat restrictive to movement. A performance shirt is tight enough that it would snag or limit your range of mobility. Just as importantly, summer performance gear will help keep you cool while wicking sweat away so that you remain dry. Simple as it may seem, having the right top is a must.
Shorts
Since we are talking about summer workouts and camps, staying cool is very important. The last thing you need is to wear long, heavy clothing that is going to make you hotter and result in far more sweat. For that reason, shorts are another must-have when talking about summer workout gear.
Like shirts, there are different lengths and fits of performance shorts to accommodate any athlete. Whether you wear something tight or prefer loose-fitting options, shorts keep your legs free. Movement improves and your legs stay cooler even through the most rigorous of workouts. Not to mention the fact that you can create a simple but stylish outfit with the right pair of shorts and a performance shirt.
Hats, ties, & wraps
With the sun beating down during summer football camp, headwear can go a long way and that's not counting the helmet. No matter what kind of hairstyle you are rocking, hats, hair ties, and wraps will become your best friend during the hottest summer workout days.
Depending on what you choose, there are a multitude of benefits to gain from having the proper headwear. Utilizing a wrap can be beneficial when the helmet is on, keeping your head cooler while also catching sweat before it has a chance to race down your forehead and into your eyes.
Hats and ties offer protection from those harmful UV rays that beat down on hot days. Whether you are in the middle of a drill or catching a breather on the sidelines, keeping your head cooler and protected from the sun is the best thing you can do. Not to mention the style that headwear can add to your overall look.
Socks and slides
Not every piece of athletic apparel is about performance. There are some items that can help provide comfort after a particularly tough workout. Not to mention staying cool as the temperatures climb and cooling down from training because necessary.
Socks and slides are a staple for football players. Socks are comfortable and provide a thin layer of protection for those valuable feet. Slides, meanwhile, provide the ease of just slipping on a shoe and going to your next destination. Comfort and convenience are the name of the game and there is nothing better than slides and socks to achieve that goal.
Towels
It is no secret that football players use towels, even on the field. So, why would there be any difference when it comes to summer football camp? Having a towel on hand can come in handy to keep the sweat from running into your eyes, inhibiting your workout along the way.
Of all the accessories that you will find available for football players, a towel is a must. Even a small hand towel can wind up paying dividends before long. The last thing you need to contend with is the sting of sweat when you are in the middle of a tough workout.