4 Outfits from Battle Sports that Athletes Will Love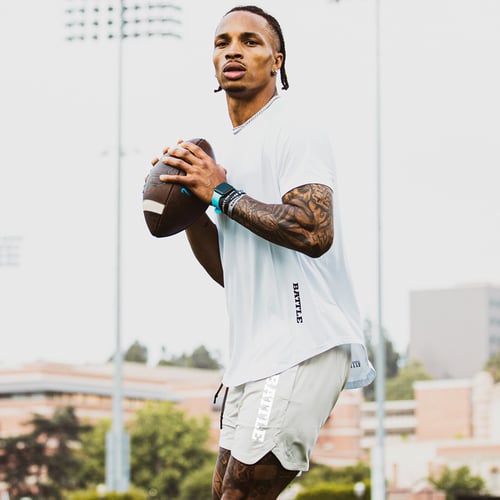 Being an athlete is all about the performance on the field. But there is a lot that goes into the process of creating the best possible result when you get on the field. One of the most crucial pieces is to have football apparel that you can be comfortable in no matter what you are doing.
With so many athletic apparel options to choose from, you may not know where to start. There are four outfit ideas that will become a regular part of your repertoire. Before long, you will be ready to focus on the game and ensure that you are comfortable and stylish no matter what.
Performance/Athletic outfit
The most obvious outfit is going with performance-based athletic apparel. Football apparel is oftentimes about creating cooler, more comfortable movement for players of all positions and skill levels.
Performance gear is usually a bit tighter and comes in an array of colors and styles. You may find a performance t-shirt, shorts, and even a long sleeve shirt to fit the bill. Proper performance gear can optimize circulation, providing better oxygen flow to the muscles and organs.
With performance gear, you can look ready to go no matter where you are. Most importantly, you can look and feel good regardless of which outfit you choose. Whether hitting the weight room, getting out onto the practice field, or heading out with teammates after practice, performance athletic apparel can become your go-to option that leaves you ready to go in any situation.
Graphic tee and shorts
If you are going with something that looks a little more casual and fun, this outfit is the one for you. With shorts and a graphic t-shirt, you can keep it fun and light. Even better, the clothing is a little looser and billowier, providing optimal comfort.
Even better, the graphic tees allow you to show off a little of your personality. Football apparel can be on the boring side with just basic colors and not a whole lot else. With a graphic t-shirt, you can create an outfit that looks better and more original than anything else out there.
This combination can be worn in different settings, too. Hanging out, hitting the weight room, or getting onto the practice field can all be done in an outfit like this. The versatility of this outfit can't be matched and will provide you with an easy choice of outfit no matter where you are or what you are doing.
The Casual
Though both of the aforementioned outfits are on the casual side, there is nothing quite like going with a short-sleeve hoodie and shorts to go along with it. It is perfect for when the weather moves from the dog days of summer into the crisp days of fall.
The hoodie sweatshirt provides a little more than any basic t-shirt can. There is also something to be said about the comfort that a hoodie can provide, allowing you to relax no matter where you are or what activity is taking place.
The hoodies come in different styles and colors as well. Grab a few and you can mix and match them with your favorite shorts, creating versatile outfits that can be worn in most everyday situations.
Long-Sleeve with shorts or T-shirt with sweatpants
In a similar vein, there is an outfit that can help keep you comfortable no matter what the temperature is outside. Whether you rock the short sleeve t-shirt and sweatpants option or flip it around and go with a hoodie and shorts, you can remain comfortable when the temperature shifts one way or the other.
Football players never rest when it comes to preparing for what is to come on the field. Wearing a long sleeve shirt or hoodie can keep you comfortable and warm when the temperatures start to drop while ensuring that you don't get too hot when in motion.
The best part is that, even if you get too hot, you can roll up the sleeves or go with a sleeveless hoodie option to counteract it. There is the perfect piece of clothing out there to suit any lifestyle and provide optimal comfort and stylishness in all situations.
The right outfit for you
The great thing about athletic apparel is that there is something out there for everyone. When it comes to football apparel, you can find comfort and style in anything from a performance tee to a hoodie and so much more.
When you feel comfortable and good about how you look, it translates into your performance on the field. Even if you find yourself riding the bench more than seeing action on the field, you can feel comfortable and stylish in any outfit of your choosing. See the difference that the right football apparel can make in your attitude and performance today.