10 Best Battle Mouthguards for Football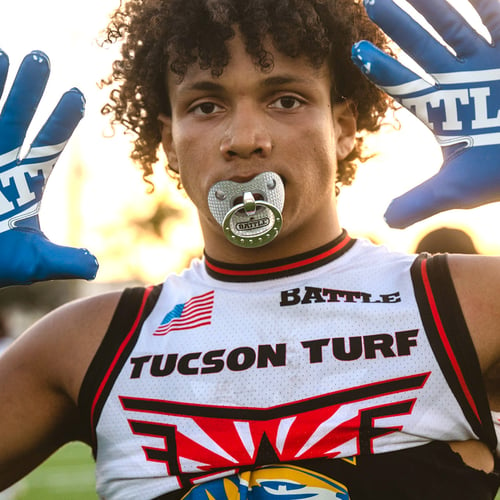 Mouthguards for football are critical. In a time where player safety is critical, it can help reduce the chance of concussion during impactful blows. But what is the best mouthguard? With this guide, you will find a football mouthguard that works best for you.
Mouthpieces for football are about two things these days: style and comfort. This football mouthpiece is great because it is one of the best-looking mouthguards while still providing optimal protection during impacts.
With a variety of colors, players can look and feel like a million bucks without having to sacrifice concussion protection. Grab a couple of colors to keep things fresh and interesting from game to game to match just about any look.
Show your teeth in the coolest way possible. If you are looking for a football mouthguard, the Fangs football mouthpiece is the way to go. Known as a "boil and bite", you can boil this mouthguard to adjust the fit whenever you want.
It also works as a braces mouthguard and even provides protection for bottom teeth. Whether you are looking for a mouthguard for braces or just considering mouthguards for football, this is a great choice.
Sometimes simple is better. A mouthguard that offers lip protection and can work with braces is already comprehensive enough. When you can choose from 10 different colors, you can find the right look and fit for your needs.
Even better, this mouthguard comes with a thick strap, so you never have to worry about losing it. Simple is better and can do just as well protecting you during play. That way, you can focus on the football and not how your mouthguard looks and feels.
The best of the best have that dog in them. Without a doubt, one of the best things about this football mouthpiece is that it acts as a great braces mouthguard, too. Players at the youth and high school level likely need a mouthguard for braces and this stylish option fits the bill.
A great design, smooth fit, and no need to boil make it a candidate for the best mouth guard. Pop it in and be ready to go with one of the best options when it comes to a mouthguard for braces.
Some people have allergies to latex, making the average football mouthguard tough to use. With the ultra-fit mouthguard, players of all backgrounds can find the most comfortable fit and a high-impact outer shell that provides optimal safety.
With a huge array of colors, it can provide style and comfort. If you have braces, however, it is not the best fit.
One of the most common mouthguard types is the boil and bite. This option allows players to form the mouthguard perfectly with no need to compromise. It also means a proper fit, creating better safety from even the most impactful hits.
Coming in a stylish camo design, you can choose from one of seven colors (or a few to keep things fresh and versatile. This mouthguard is simple and easy to use.
What better way to get hyped up for your next game than with a little patriotism? There are plenty of mouthguards for football to choose from. The best mouth guard is one that looks just as good as it feels.
Rocking the American flag can help you to do just that. It acts as a lip protector, too, making it excellent as a mouthguard for braces.
If you want to really stand out with your choice of mouthguard, the spinner is the coolest one out there. Choose from three different color schemes to find the look that suits you best.
The full mouth covering keeps lips protected and works with braces as well. With no need to boil, you can just pop in this mouthguard and go, keeping your mouth safe with every play.
Want a mouthguard that provides protection without feeling too cumbersome? The ultra-slim mouthguard is the right choice. It fits comfortably with maximum breathability and comfort.
Coming in five different colors, it can also be molded easily to meet any fit. If you don't normally like wearing a mouthguard, the ultra-slim is a great compromise.
The binky style is big right now when it comes to mouthpieces for football. While they may not be quite as protective as a braces mouthguard, it is still able to provide full mouth protection that standard mouthguards don't.
With a cool, iridescent design, it is also a very stylish option. Look good and play good with the binky mouthguard.