Get Ready for Hockey Season With Battle Mouthguards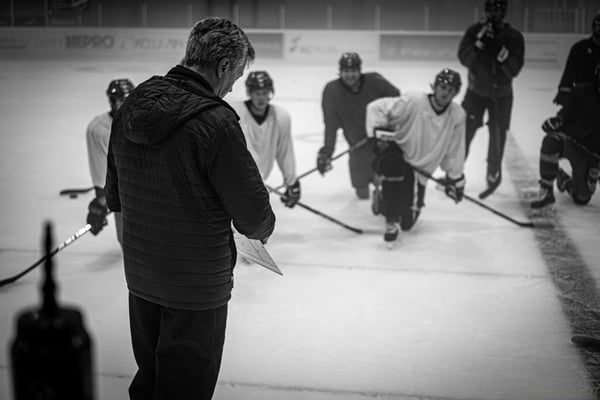 Hockey is a high-impact sport. Staying safe on the ice is crucial so that players can focus on the puck. With so much equipment to keep in mind, it can be all too easy to overlook the mouthguard and the impact it can have.
Whether you are looking to protect yourself or your young one on the ice, a mouthguard is of the utmost importance. Thankfully, Battle Sports will teach you how to fit a mouthguard, what the coolest mouthguards are, and anything you could want to know about the hockey mouthpiece.
Why Mouthguards are Important
In the sporting world, in particular, we are learning more about head injuries than ever before. It was previously thought that only the biggest of collisions could lead to a head injury of any kind, but that is not necessarily the case.
So, what does that have to do with mouthguards? Well, there are any number of collisions that can lead to the rattling of teeth. When your teeth hit together, it can have serious implications along the way. Not only can that cause potential head injuries, but major issues with tooth damage as well.
In order to prevent teeth from rattling together and slamming into one another, the mouthguard can provide relief. With a soft, rubber or vinyl layering, your teeth can stay safe while also ensuring that your brain doesn't suffer traumatic impacts that could have otherwise been prevented.
It is important to remember that not any old mouthguard will do. Having the right size and fit is key for both safety and comfort. With these mouthguard options, you can stay looking swaggy and feeling safe whenever you step onto the ice.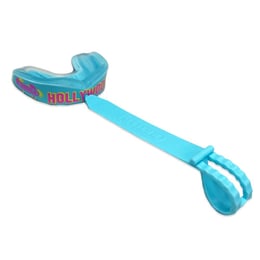 You would be hard pressed to find a better option for your hockey mouthguard than the Hollywood Ultra Fit mouthguard. Whether youare looking for a youth mouthguard or adult mouthguard, there is a size option for all.
Those looking to get a pink mouthpiece will not be disappointed as the "Hollywood" name and palm trees are bright pink with an outline of yellow. You can create the most stylish look on the ice while remaining as safe as possible.
Coming in adult sizes, good luck finding a better adult mouthguard. It is the best combination of style and safety, providing a fashionable look that can't be beat.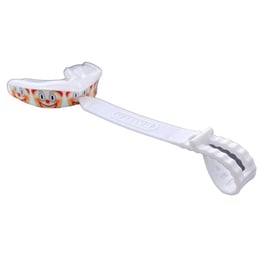 Sometimes, there is no better way to get into the head of the competition than by talking a little trash. So, what better way to clown thecompetition than by showing them what a clown they really are?
With the clown emoji ultra-fit mouthguard, you can ensure that the competition stays rattled from the opening faceoff to the final buzzer. A youth mouthguard that fits onto the upper teeth, it provides a comfortable fit like no other.
Perfect for any age or skill level, having the right mouthguard can provide comfort and safety every step of the way. It is the best way to keep your head in the game and protected from traumatic impacts.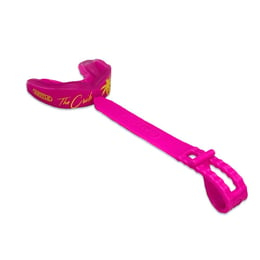 Being able to implement a bit of style and flash into your game can have a huge impact. So, better way than having a hot pinkmouthpiece to stand out from the rest of the competition?
The crib ultra-fit mouthguard can provide the perfect combination of comfort and aesthetic appeal, helping you to look your best while taking your game to the next level. Like the other mouthguards, it fits comfortably onto your upper teeth, so you won't even know that it is there during the action.
With options in both adult and youth sizes, this is the kind of mouthguard that can help you to make an impact. The old mantra is "look good, feel good, play good." With a stylish bright pink mouthguard to keep you protected, you can focus on taking your game to another level.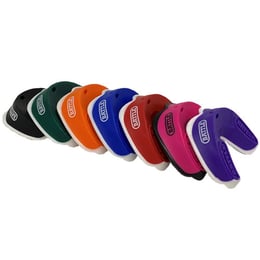 If you are the kind of player who likes to focus on what's happening on the ice, then the Battle Sports mouthguard can be the perfect solution. You should not have to sacrifice your safety at any point and keeping your teeth and jaw protected in a high-impact sport is of the utmost importance.
Though it has a simple design, there is a lot to like about the ultra-fit Battle Sports mouthguard. For starters, it has unmatched color versatility. Players can choose from a pink mouthpiece, a blue mouthpiece, a purple mouthpiece, a red mouthpiece, and more colors that they need to keep their 'fit looking the best that it can.
Even better than that, this mouthguard is available in both youth and adult sizes, providing the perfect, versatile mouthguard to suit your on-ice needs. With the right mouthguard, a focus can be put into the action on the ice instead of wondering whether you are safe on the ice.