Uniform Your Team with Battle Sports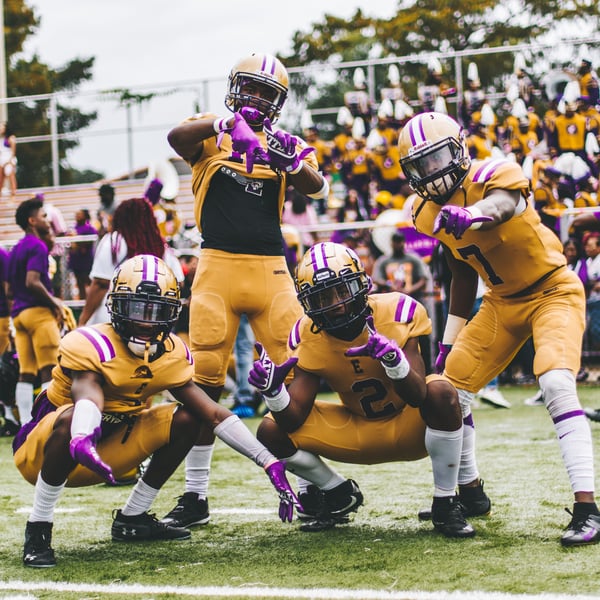 Uniforms are one of the most important aspects of football. Whether it be tackle football uniforms, flag football uniforms, or 7v7 uniforms, having the right football uniforms is important for more reasons than many realize.
Those uniforms are meant to represent the program or team as a whole. At the same time, when a team looks good, they feel good, and subsequently play good. When it comes to team uniforms, there is no substituting what Battle uniforms can bring to the table. Let's take a look at the different offerings currently available.
Tackle Football Uniforms
Tackle football uniforms set the tone for the team. There is nothing like coming out at the start of the game, everyone in sync, looking their best, and attempting to set the tone for the rest of the game. Team uniforms are about more than simple cohesiveness as well.
The optimal football uniforms offer breathability, a compression fit, and compression pocketing to keep padding in place. There are also a number of different colors and prints available, allowing teams to represent their program to a tee.
Don't overlook the value that a good uniform can offer. A smoother, more flexible fit allows players to be their best. Being able to put a focus on performing under the big lights is a lot easier when the uniforms are comfortable and flexible. Every program can look better than ever before when it comes to being outfitted with the right tackle football uniforms.
Flag Football Apparel
Flag football is a little more relaxed in a lot of ways. Not only are there no tackles, but the football uniforms look quite a bit different. While there may be some flag football uniforms or 7v7 uniforms, it is mostly players wearing shorts and a top with any other accessories they might have.
Whether you are playing 7v7 on a whim or in a competitive sense, having the right flag football uniforms or 7v7 uniforms can ensure that everyone is on the same page. Let's take a look at the various tops and bottoms available from Battle uniforms.
Tops. Staying comfortable is necessary whether playing tackle, flag, or 7v7 football. Thankfully, Battle Sports has a wide array of apparel options to choose from to keep you mobile, flexible, and comfortable no matter the situation.
Hoodies, sleeveless hoodies, compression pullovers, t-shirts, and more provide more options than any team could ever need. Each player can dress to their optimal comfort and focus on balling out instead of on their apparel.
Bottoms. Flexibility and freedom of motion is important in any competitive situation. For that reason, make sure that your team uniforms allow players to be their best. There are shorts and compression tights that promote optimal comfort and flexibility throughout.
Even better, they can be color coordinated to match team color schemes. Players can look good and feel good when wearing Battle uniforms, ensuring that they can give their best whenever the ball is in their hands. Big performances can't be hindered by improper equipment.
Accessories and Equipment
No matter whether you are stepping in to play 7 v 7 or full tackle, part of having the right team uniforms includes having all of the necessary accessories. Things like cleats, gloves, and mouthguards are all necessities to ensure a better performance.
Mouthguards. Football is a contact sport even when it is simply flag football. Things can happen and keeping yourself protected from collisions is a must. For that reason, all football uniforms should include things like mouthguards.
Mouthguards keep the teeth from colliding, helping to cut down on potential head injuries. When discussing tackle football uniforms, in particular, the mouthguard should be one of the mandatory pieces of equipment.
Gloves. Gloves are more than simply a stylish addition. For any 7v7 uniforms, flag football uniforms, and team uniforms, in general, gloves tie the aesthetic together while offering improved grip for skill position players.
Even better, there are more glove options than you could possibly imagine. You can even customize things to get the kind of gloves that you envisioned. The right gloves can be a major factor in catching the ball and protecting the hands of players from various positions. When you are equipping your team, make sure that the football uniforms include proper gloves for each position.
Arm bands and sleeves. Look good, play good. There is more to having the right arm bands and sleeves than simply looking good, however. Arm sleeves can provide great protection against the burns and scabs that come from sliding around on the field.
It also doesn't hurt that there are a ton of options available to suit any color scheme. When it comes to football uniforms, flag football uniforms, and 7v7 uniforms, having the right accessories can bring everything together in just the right way.
Signup and download the Battle Sports Catalog to get the rundown on the best football uniforms.