Why Customers Love Our Best Selling Turf Tape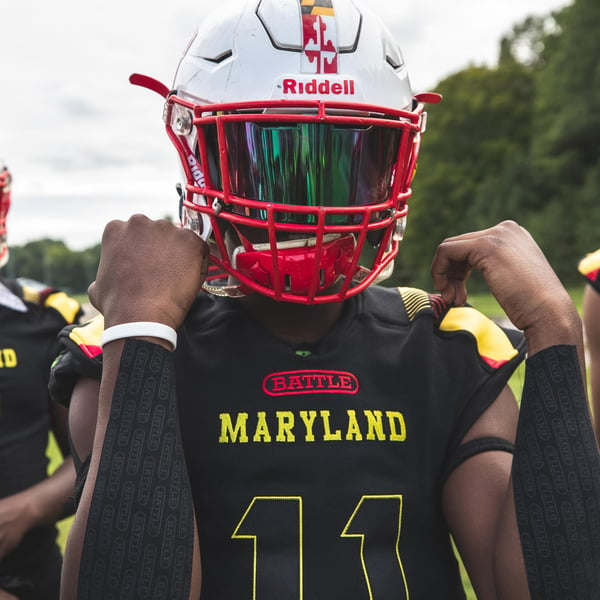 Football turf tape is a specialized type of adhesive tape used by football players to protect skin against turf burns, scrapes, blisters, calluses, or wherever abrasion control is needed when players hit the turf. Turf tape can be removed and applied as needed to protect skin or provide extra reinforcement to ankles and wrists.
Our Battle Turf Tape is flexible and thick enough to protect against even the roughest turfs. This tape protects your skin without losing any mobility during your game.
Turf tape for Battle Sports is loved by football players and parents; let's break down why this product is a customer favorite.
Battle Turf Tape Stays Sticky
When turf tape isn't sticky enough, it doesn't provide the desired protection from turf burn and abrasions. Luckily, we kept that in mind when creating our turf tape from Battle Sports. Hear about it straight from our customers:
"I bought a [different] brand of protective tape and it was a disaster. [The turf tape] didn't stick and rolled up as soon as you took a fall (or moved your arm in certain ways). That said, Battle tape doesn't have any of those issues. If your kid plays a position where they get tackled or tackle a lot I cannot recommend this stuff enough." – Lindsay F.

"I bought [this] for my son, who uses the product every week for varsity football. This tape stays on throughout the game and keeps his arms from getting turf burn." – Carl

"My son has tried a few different kinds of tapes but this is his absolute favorite." – Les
Our turf tape is latex free making it safe for athletes with latex allergies.
Works for Multi-Sport Athletes
While turf tape is a piece of equipment we recommend for football players, this can be used beyond the football field. Take it from our Battle customers:
"[

Battle Turf Tapes

] works. It has saved my arms and shins from terrible turf burn. I feel more confident diving to make catches and sliding into bases now." – Vincent B.

"This is a good tape. Tried on soccer pitch and it works. Five stars." – Jun L.
Each roll of Battle tape is four inches wide and has ten yards of turf tape. This is made of an easy cut material for quick and precise application.
How to Apply Turf Tape
Whether you're preparing for practice or a big game, you'll want to put on turf tape to prevent turf burn and also to add reinforcement to injuries. Trying the customer favorite Battle Sports turf tape for the first time? Here's how to apply your turf tape:
Cut the amount of tape you need from the roll.

Apply turf tape to your desired location; if you're applying to your arms, we recommend starting with your triceps and working your way down to the wrists.

Peel off the application backing and apply the sticky side of the turf tape directly to your skin.



Wear Battle Turf Tape to Show Your Style
Our Battle Sports turf tape comes in three different colors: pink, white, and black. Whether you choose our pink turf tape, our white turf tape, or our black turf tape, you're sure to make a statement. You can coordinate with your uniform for game days or your favorite tshirts, hoodies, and pants.
This turf tape features our Battle logo printed along the roll so that you can tell your teammates and opponents that you're ready for battle. Shop now and be sure to stock up as this product is a customer favorite year round.