The Best Football Apparel for on and off the Field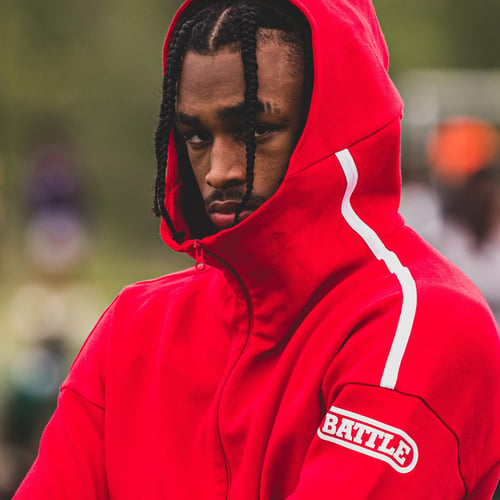 When it comes to football, there is more work to do than just on the field. The best players are prepared long before the first snap, putting in work off the field in the weight room and studying the playbook. That means staying comfortable and flexible before putting on the pads.
Having the right training apparel can go a long way. Being comfortable, both when working out and relaxing away from the facility, can be crucial to success. Whether it be men's football shirts, no sleeve hoodies, joggers, tracksuits, or football hoodies, you can stay comfortable and ready to tackle anything with these essential apparel items.
Joggers
Depending on where you live, being prepared for the weather is critical. Having training apparel that can fit the bill no matter the situation is important. Something like joggers can go a long way toward keeping you comfortable no matter the setting.
Joggers are light and airy, providing sufficient warmth against the cold. That said, they are also highly breathable, keeping you from overheating when the activity starts to pick up. Every football player knows the value that a good pair of joggers can bring, especially when it comes to off-the-field training.
Think of joggers as shorts with a little extra something. If you live and play in an area where it gets quite chilly, having joggers on can help you stay warm and comfortable no matter what the thermometer says.
Shop all men's pants.
Tracksuits
Football players have their own distinct sense of style. If you want to bring a little coordination and style to the table without having to go all formal, there is nothing better to suit you than tracksuits. Men's tracksuits can offer a little more style than you would get out of shorts and a t-shirt. Even better, you can match up with teammates to have a coordinated look when rolling into the weight room or film study.
Tracksuits are also breathable and comfortable, so you won't ever feel uptight or restricted. Men's tracksuits can even be customized to fit the overall aesthetic of your program, giving your team a visual advantage the moment you step off the bus. Tracksuits are a great idea for the active, on-the-go lifestyle that football players lead.
Shop all tracksuits.
Hoodies
Whether you play football or know football players, there is one thing that you have probably seen and that is football hoodies. Whether of the local program or a favorite NFL team, hoodies are a common part of football apparel from high school to the pros. They serve so many purposes that it is hard to want to wear anything else.
Even better, hoodies come in different styles and patterns. If you like the comfort and feel of a hoodie but want to stay a bit cooler, no sleeve hoodies are the way to go. You can remain cool and comfortable even in the most heated of workouts. Best of all, they are casual but can still be worn in different settings. Having the right hoodie will become a staple of any football player's attire, no matter where they may be.
Shop all hoodies.
T-Shirts
Like the hoodie, men's football shirts are a staple of the attire. And why wouldn't they be? Shirts are simple yet provide comfort, style, and flexibility for top athletes. Whether you plan on working out in the weight room or on the field, a t-shirt can be the right option to fit the bill.
T-shirts also offer versatility in terms of design. Add team logos and colors, preferred slogans and sayings, and anything else that you could want to add. It provides a sense of cohesion and unity to the team, especially when players travel together in groups.
Though it seems simple on the surface, don't overlook the value that the right t-shirt can offer. Before long, it will become a go-to option regardless of where you have to be. Add a few different colors and styles and you will be prepared to go anywhere, at any time.
Shop all t-shirts.
Shorts
Like t-shirts, shorts are the perfect compliment to just about any other type of clothing. For football players, where there is a constant need to be moving and physical, shorts will become an integral part of the wardrobe. They are also great on the field, in the weight room, and while doing homework or film study.
Just like t-shirts, shorts come in a huge array of colors, styles, lengths, and materials. Feel free to mix them up and see what feels best, especially in certain settings and situations. While clothing may seem like simply clothing, it plays a much bigger role than we realize. Being a football player requires peak performance and focus. Having the right clothing can ensure that you have the focus you need to be a success on and off the field.
Shop all shorts.