How to Layer Up for Your Next Football Workout with Battle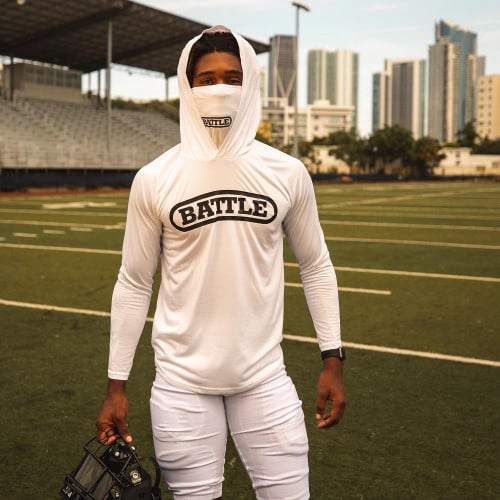 When springtime rolls around, it can be exciting to get outside once again. The problem is that spring weather can be a bit unpredictable with temperatures changing up and down on a frequent basis. For that reason, having the right athletic apparel is crucial.
Choosing proper athletic clothing – whether it be a men's hoodie, men's tshirts, kids tshirts, youth hoodies, etc. – is crucial to creating the optimal spring workout. Here is why it is important to feel comfortable and know what to wear to a workout.
Optimal Comfort
No matter what the temperatures may be, comfort is necessary when it comes to workout clothes. Athletic apparel can vary greatly, and the right option can create a more comfortable body temperature in which to work out.
Clothing that is too loose or ill-fitting not only results in difficulty creating the most optimal temperature but can result in restrictions to movement and even restrict circulation. Make sure that you have the right size whether it is a men's hoodie, men's tshirts, youth hoodies, or kids tshirts.
The right workout clothes can make a world of difference when springtime rolls around. Make sure that you stay just warm enough while providing proper breathability to stay cool when temperatures rise.
Confidence Booster
There is another aspect to workout clothes that are worth considering and that is the impact on confidence that it can have. Whether it is a spring workout, summer workout, or fall workout, you deserve to look good while working out. When you consider what to wear to a workout, it has to make you feel good, too.
Feeling confident in what you are wearing helps boost your performance. The right athletic clothing will not only boost your confidence but give you the ability to complete all of the workouts that you have been hoping to complete.
Athletic apparel should be something that you could wear just about anywhere. Make sure that you give yourself a confidence boost and choose the right men's hoodie, men's tshirts, kids tshirts, and youth hoodies to create the best look possible.
Stay Safe
With any workout, there is always the risk of potential injury. Doing a particular activity the wrong way can result in a muscle strain or even a tumble that can result in cuts, bruises, and broken bones. With that underlying risk being there, why make things even more potentially dangerous by wearing the wrong athletic apparel?
Making the right choice of athletic clothing can be a huge difference maker in your spring workout. Whenever you wonder what to wear to a workout, it should include clothing that fits properly so that you can remain safe during your workout.
Having compression clothing, for instance, can promote better blood flow to the heart, which gives more oxygen to the muscles that you are working out. Good clothing can also promote a reduction in inflammation, making recovery quicker and more effective. This comes down to having the right workout clothes to keep you safe and mobile. Don't run the risk of a potential injury by wearing athletic clothing that doesn't fit properly.
Improve Durability
Clothing can wear down with regular use. When you are working out, it can equate to more wear and tear to regular clothing that otherwise would not have been there. If you are wondering what to wear to a workout, make sure that you go with a higher quality of athletic apparel and you can count on it lasting for a long time to come.
When you choose the right athletic clothing, you can actually save yourself money in the long-term. More durable clothing will hold up to your rigorous workouts, being there for you for every spring workout and beyond.
The right workout gear will hold up better, look better, and be around longer. Because you don't have to buy a new men's hoodie or men's tshirts, you can put money back into your pocket and use it for other purposes. There are a lot of other things that you can put your money towards; skip buying new workout gear when you have high-quality workout clothing that you can depend on.
Get the Right Apparel Today
When you have a spring workout on the horizon, make sure that you know what to wear to your workout. With the right athletic apparel, you will remain comfortable and confident throughout your workout and perform with confidence.
With a wide array of options including men's hoodies, youth hoodies, men's tshirts, and kids tshirts, you can find the right option for every situation and scenario. Stay comfortable, stay safe, and feel more confident than ever when you choose the right workout clothes for all of your seasonal workout needs. See what the right athletic clothing can do for you and how it can improve your life.