What to Look For When Ordering Football Shorts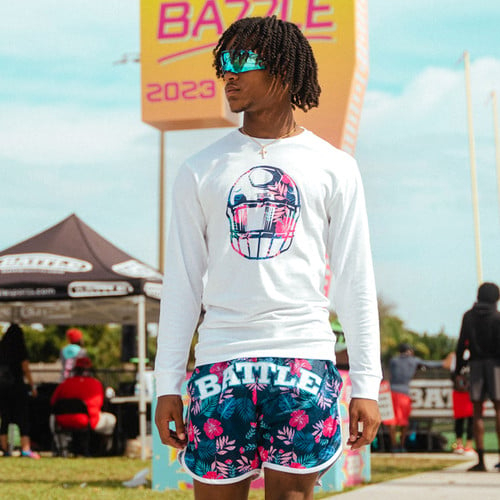 When it comes to buying men's shorts for working out, there are a few key factors to consider to ensure that you choose the right pair that will be comfortable, functional, and durable. The team here at Battle has put together a guide of everything you need to consider when ordering shorts for working out. We're experts in men's athletic apparel and have athletic clothing for all your workout needs. Battle clothing has the versatility for your workouts while also having style and swag.
Workout Shorts for Warmer Days
First, you need to consider the material of the men's shorts you're thinking about ordering. If you're shopping for workout shorts for the warmer months, we recommend you look for shorts made from moisture-wicking fabric, which will help keep you cool and dry during intense workouts. Moisture-wicking fabric pulls moisture from the inner layer to the outside of the shorts which lets the sweat evaporate which leads to a cooling feeling during your workout.
We have moisture-wicking athletic shorts in a variety of inseam lengths so that you can look fresh and feel your best in our men's athletic apparel on and off the field.
Our Recommendations for Men's Workout Shorts for Warmer Weather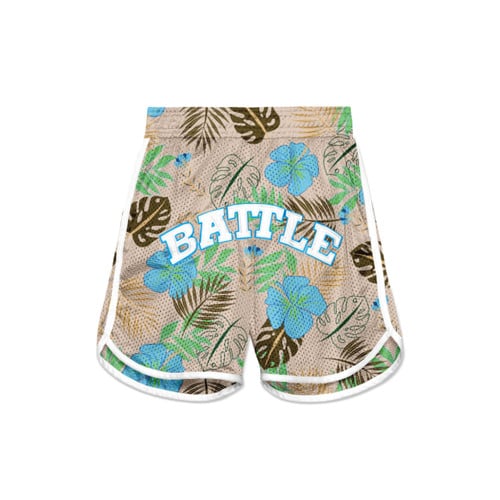 MESH SHORTS, $44.99 in sizes S - 5XL
Our Mesh Shorts are available in five different colors with three solid options and two printed options. These loose fit, mesh shorts feature our logo embroidered across the front with side pockets for holding your essentials and have a built in liner. This style of Battle men's shorts have an elastic waistband with an adjustable drawcord. These hit mid-thigh and are moisture wicking so you can focus on your workout and don't have to worry about sweating.
WE LOVE THIS PAIRED WITH OUR…Hitch Midweight Short Sleeve Performance Shirt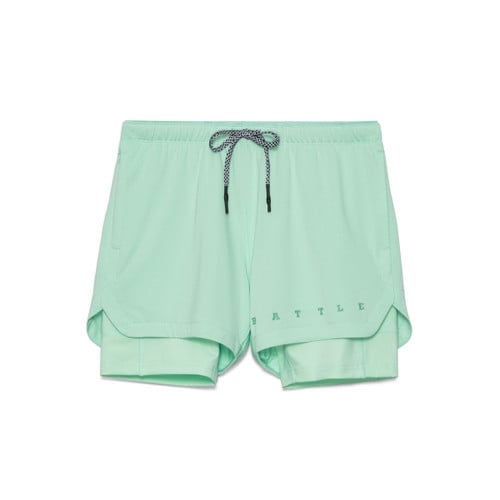 FLY 5 SHORTS, $49.99 in sizes S - 3XL
Our Fly 5 short is made for athletes, on and off the field. These football shorts include an extended compression short for the optimal training experience. Made of a polyester and spandex blend, these shorts were designed to move with you during every rep. These athletic fit shorts have a zip pocket on the right side to secure your valuables plus the built in liner features a cell liner to hold your phone during your workouts.
Another factor to consider is the length of the shorts. Shorts that come down to the knee or just above it are ideal for working out, as they provide enough coverage while still allowing for a full range of motion.
WEAR THESE SHORTS WITH OUR…Helmet T-Shirt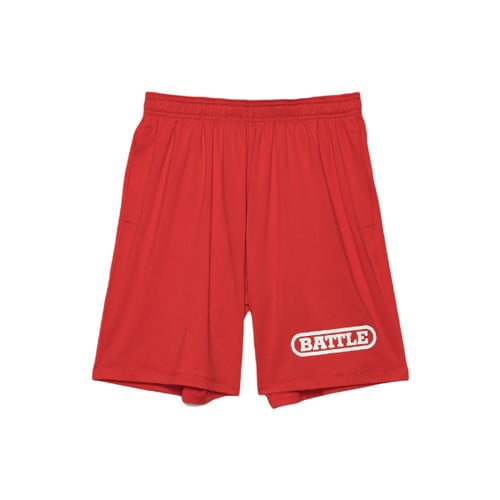 PERFORMANCE SHORTS with logo, $24.99 - $29.99 in sizes
A great option for this is our Performance Shorts. These 4-way stretch shorts are available in three colors: red, gray, and black. One thing we love about these active shorts is the UV protection combined with anti-odor technology since it means you can comfortably run through every route without worrying about sunburns or body odor.
Finally, before you hit "complete my order" think about any additional features that you might want in your pair of workout shorts. Some of our Battle shorts come with pockets for storing your phone or other essentials, while others have built-in liners for added support and protection while you work out.
When you're ready to purchase men's shorts for working out, focus on finding a pair that:
is made from moisture-wicking fabric

has an adjustable waistband

and provides enough coverage while still allowing for a full range of motion
FINISH THE LOOK WITH OUR...Battle Short Sleeve Hoodie
If you have any specific needs such as pockets or liners, look no further than our Battle workout shorts for men and kids. We've designed our athletic apparel to be versatile enough for multi-sport athletes and can't wait for you to see why our shorts are made for Battle.