What is a Back Plate and Why is it Needed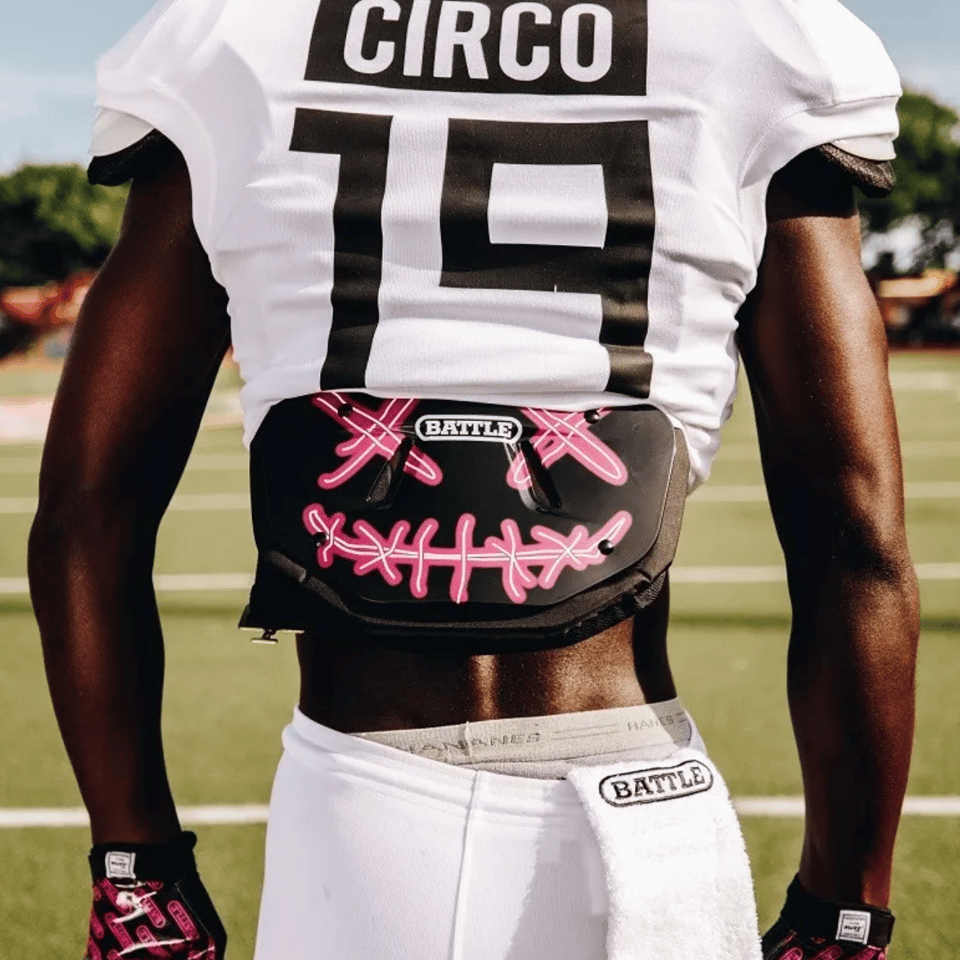 Safety is the most important aspect of the game of football. From pee wee football all the way to the professional ranks, keeping your body healthy allows you to play the game you love. There are the more obvious pieces of safety equipment, like a helmet, shoulder pads and even knee pads – all of which are required and do the bulk of the work in keeping you safe. But in this post, we'll cover one of the lesser-known pieces of football safety equipment: a back plate. Learn more about what a back plate is, who should wear them, what factors make for a good back plate, and how to clean your back plate.
A football back plate (sometimes referred to as a back flap) is a piece of safety equipment that attaches to a player's shoulder pads that helps protect the lower back. Back plates connect to the shoulder pads using an attachment strap and hardware/screws. The best football back plate will help disperse the impact of hard hits and feel comfortable to wear.
Who should wear a back plate?
Football back plates can essentially be worn by anyone on the field and at any age level. Back plates tend to come in both youth and adult sizes, meaning they're well suited for any level of gameplay.
Usually, back plates best serve the players who are more prone to hard hits from the side or from behind. If you're a skill position player, we highly recommend a back plate. Quarterbacks, running backs, receivers, tight ends, defensive backs and linebackers are prone to absorbing or delivering hard hits. Don't cut corners on keeping yourself protected.
What factors make for a good back plate?
The top 2 factors you should consider when purchasing a back plate are fit and style. Selecting a back plate that fits well and looks good will be worth it in the long run.
A proper fitting back plate is critical for keeping you protected. A football back plate that is too small likely won't cover the surface area of your lower back. A size too big will weigh you down and flop around while running. You'll also want to make sure you have the correct hardware to connect your back plate to your shoulder pads. Opt for the Battle Back Plate Hardware Pack.
There's no wrong answer for the style of your back plate. Opt for your team's colors or let your personality show with a unique or custom design. At Battle, we have some unique designs like the American Flag Chrome and Copper style back plates.
How do I clean my back plate?
To properly clean your back plate, hand wash with water and mild soap. Dish soap is a great option. This method can help remove dirt, grime, and even sweat stains. After cleaning, air dry the back plate at room temperature. Be sure to allow the back plate to dry before fastening it to your shoulder pads.